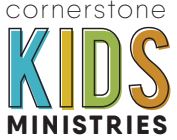 …our heart is their faith and their family!
"Train a child in the way he should go, and when he is old he will not turn from it." Proverbs 22:6
SUNDAYS
September through May – 9:30a -10:20a
Nursery is for wee babes through age 3. The nursery is located down the hall from the worship center and staff led during worship services and the kid's hour. Security check-in system and big screen parent notifications.
Little Kids has two sections: 3 year olds – a room of their own to adjust to the bigger atmosphere. The other room is for 4 year olds through kindergarten – they are in a large group setting with relational assistants and higher activity.
Big Kids Worship is for 1st through 6th graders and is a large/small group Sunday School setting. It is virtue driven and parents are invited to be a part of their hour any or all Sundays.
Children's Church happens every Sunday during the message time of the 10:45 service. Little ones ages 3 through kindergarten are invited and excused at that time and can be picked up in the kid's room immediately following the service.
Register your kids anytime in their rooms respectively so we can meet and greet you.
WEEKDAYS
Kids Praise for those who want to sing, takes place every Tuesday from 3:30-5:00p for 1st through 6th graders in the orange room. Our church vans are available from the Intermediate school to give rides. After school snacks provided.
Network.56 runs every Wednesday after school for 5th and 6th graders from 3:30-5:30p. It is our in-depth study of the Bible and their faith. Great snacks before and pizza to follow. Our church vans are available from the Intermediate school. Friends are very welcome and registration is needed.
Kids Hope USA is our mentoring program at McKinley and Intermediate schools. Adult mentors are always needed.
Early Learning Center is offered mornings and afternoons to 3 to 5 year olds under the loving guidance of Jane Roemen and team. You child will love this introduction to their school years.
EVENTS
Events take place throughout the year and are announced as they come
Registration Sunday – 3rd Grade Bible Sunday – Operation Christmas Child – Christmas Program – Family Movie Nights – Easter Event – Celebration Sunday – Preschool Summer Camp – Summer Bible Camps
Christmas Program Rehearsal