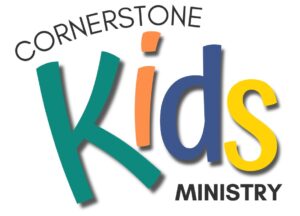 …our heart is their faith and their family!
"Train up a child in the way he should go, and when he is old, he will not depart from it." Proverbs 22:6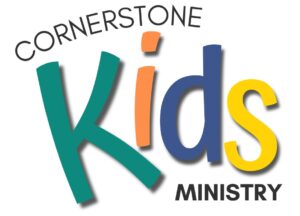 Sunday School for 3-year-olds through 6th grade.  Sundays from 9:30-10:20am.

5th & 6th graders. Wednesdays from 3:30-5:30pm.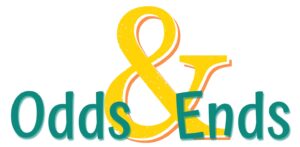 Volunteers to help with odds and ends in Kid's Ministry.
September through May @ 9:30-10:20am

AGE: 0-3 YEAR OLD
EMBARK ON A FAITH JOURNEY from birth. Our Nursery team introduces the love of God to the youngest of our Cornerstone Kids through books, play, music, and cuddles. We provide a clean and safe environment located just down the hall from the Worship Center. The Nursery is staffed during the 9:30am & 10:45am services. Parents, you can feel comfortable leaving your child in the loving care of our Nursery team of volunteers as you enjoy worship and the message.

AGE: 3 YEAR OLD (must be 3 by Sept. 1st)
EXPLORE FAITH with a walk through The Word. In the Old Testament, your wee little one will be introduced to God's power and loving character & in the New Testament guided to a personal friendship with Jesus. SING • PRAY • CARPET TIME • TABLE TIME.  3-year-olds who begin in this room, stay in this room for the remainder of the year. If your 3-year-old is not ready for this step, the Nursery is still available for them until they are comfortable.

AGE: 4 YEAR OLD - KINDERGARTEN (must be 4 by Sept. 1st)
EMBRACE FAITH in The Little Ark! Your child will experience a large and small group setting. The Bible stories, prayer time, worship, crafts, and games aim to help them understand that "God made me", "God loves me", and "Jesus wants to be my friend forever."

AGE: 1ST - 4TH GRADE
ENGAGE IN FAITH through worship, interactive games & activities, word knowledge, prayer, and Bible stories. The teachings are driven to help kids grow in virtue knowing that "I can trust God no matter what", "I need to make a wise choice", and "I need to treat others the way I want to be treated."

AGE: 5TH & 6TH GRADE
ENJOY (OWN) YOUR FAITH knowing you are not too young....." to be an example to all believers in what you say, in the way you live, in your love, in your faith, in your purity." 1 Timothy 4:12. Preteens will have their own space to continue building a faith foundation as they hear God's Word, learn life application skills, form relationships, ask questions, play games, and worship.

AGE: 3 YEARS OLD - KINDERGARTEN
Every Sunday throughout the year during the message of the last service.  Children ages 3 years old - Kindergarten are excused at that time and can be picked up in the kid's room immediately following the service.
Christmast Program Songs for AGE: 3 years old - Kindergarten
He Is The Light
This Little Light Of Mine